In order to obtain a 5-star rating from Caterpillar, dealers/service centers must meet new fluid cleanliness specifications for engine oil, hydraulic oil and transmission fluid. A service center in Michigan looked to Hy-Pro to help them clean up their fluids and maintain these cleanliness specifications going forward.
Implementing a 5-Star Solution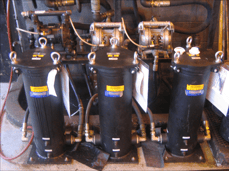 The service center in this case study wanted to achieve an X/16/13 ISO code from their dispensing nozzles in the service bays. This included all fluids that are pumped from bulk oil tanks through long pipe and hose runs.
To ensure that all of the fluids would be on target all the time, Hy-Pro designed and implemented a solution to deliver fluid with an ISO code of X/14/11 for hydraulic and transmission fluids and X/15/12 for engine oil at the dispensing nozzle.
Fill out the form to the right to read the case study and see how this problem was solved.