Product Release
Introducing the Compact Offline Filter (COF)
Our smallest unit yet, the Compact Offline Filter is able to fit where no other filtration equipment can. Ideal for smaller systems, or where a larger offline system wouldn't fit, can be permanently installed or portable.
Typical applications include gear boxes, plastic injection molding machines, and vacuum pumps, to name a few. Choose between a variety of motors, wands, hoses, and portable cart options. Paired with our unique VTM elements, this unit can remove particulate, water, and varnish all with one filter.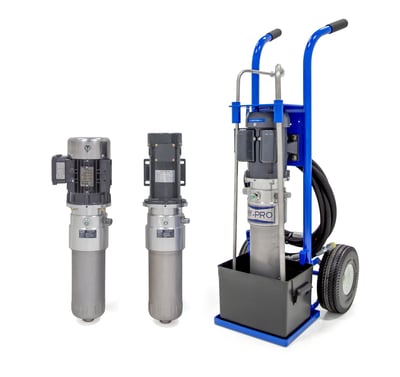 Our newest high viscosity filtration solution.
We're excited to announce one of our newest high viscosity filtration solutions, Hy-Pro's Compact Offline Filter or COF. With a custom-designed gerotor pump specifically designed to allow for a higher viscosity range than competing units. Download the brochure now.