DFE and ISO 16889 Multi-Pass Test Results Comparison
Figure 9 shows the performance of like elements produced by three different manufacturers that were tested to ISO 16889. The results were expressed as a time weighted beta ratio. Element B had a better capture efficiency than the Hy-Pro element in the constant flow test environment of ISO 16889. All of the elements tested were true to their Beta Ratio of β7[c] > 1000.
Figure 9: ISO 16889 Multi-Pass
Time Weighted Beta Ratio Comparison for β7µ[C]>1000 Filter Element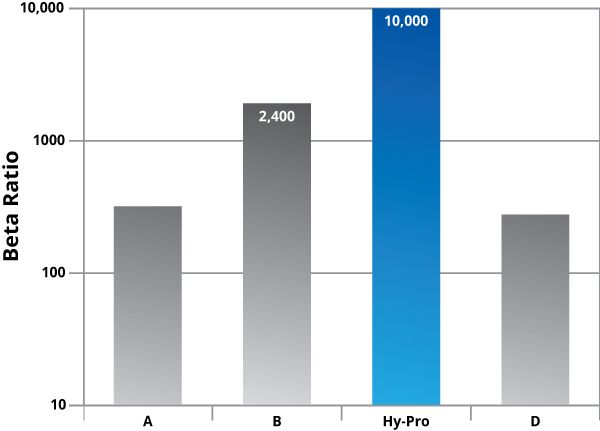 Figure 10 shows the time weighted performance of the like elements tested to DFE multi-pass to illustrate the performance differences between DFE and ISO16889.
Figure 10: DFE Multi-Pass
Time Weighted Beta Ratio Comparison for β7µ[C]>1000 Filter Element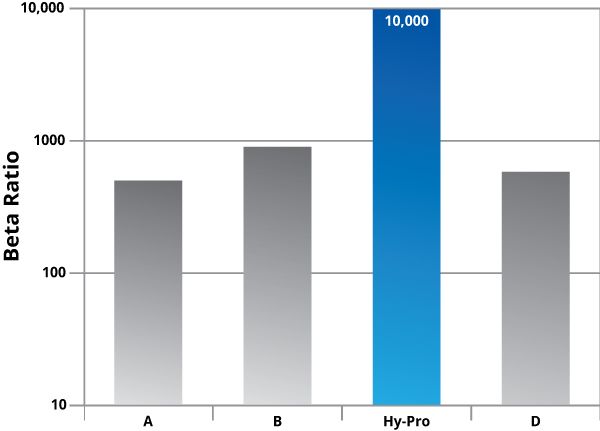 In Figure 11 the particle counts taken during flow change have been isolated to measure efficiency during dynamic flow. Since the DFE test has shown that filter element performance is at its worst during flow changes, isolating those sequences can help predict performance in dynamic conditions, and it is with this graph that we see how overall filter performance changes.
Figure 11: Real Time Flow Change
Beta Ratio Comparison per DFE Multi-Pass for β7µ[C]>1000 Filter Element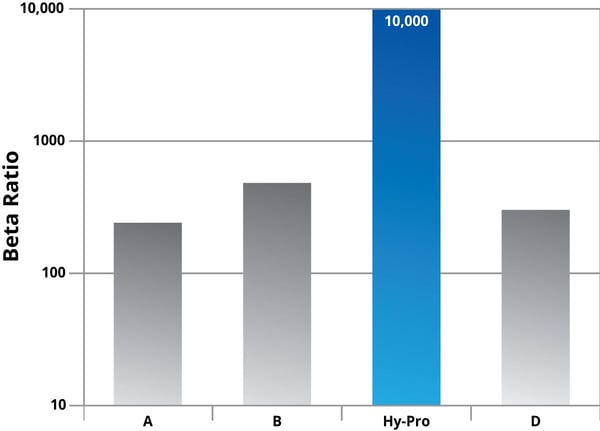 Element B had a beta ratio in excess of β7[c] > 2000 when tested to ISO16889 (Figure 9). However, Figure 11 shows the average beta ratio of Element B during variable flow to be β7[c] > 500. The Hy-Pro element beta ratio was in excess of β7[c] > 10,000, true to rating even in the dynamic test. The Hy-Pro performance in Figure 11 illustrates why Hy-Pro is committed to the DFE test method for design and development. DFE is Hy-Pro's competitive advantage.
Relying solely on ISO16889 to predict how filter elements will perform in a dynamic system is like taking a boat into rough seas that has never been in the water. The current industry standard test for hydraulic and lube filter performance (ISO 16889) is a good tool for predicting performance of off-line filters and circulating systems, but it does not accurately represent the stress of a hydraulic circuit with dynamic flow conditions or a lube system cold start. Without DFE testing, it is difficult to truly predict actual filter performance in a dynamic system.