Do you have trouble translating your fluid analysis reports into useful information you can act upon? If you were to notice high levels of Ba on your report would you know what it is and where its likely coming from?
If you could use a hand we've got the perfect tool in our new Fluid Analysis Reference Guide. Within the chart below are contaminants found on fluid analysis test reports listed according to their chemical symbol (often how they'll be listed on the reports) and the various sources from which they are known to occur.
Hopefully, this chart will be a handy reference for reading and analyzing your fluid analysis reports.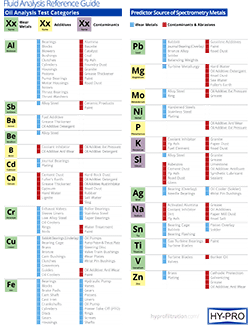 Click the button below to download the printable pdf. We'll even send you a laminated copy if you want!
---