The 2022 Hy-Pro Filtration

Product Catalog

for Filter Elements and Filtration Equipment is Now Online!
The newest and updated Hy-Pro Filtration Product Catalog is now available online and easier to use than ever before with interactive elements that are not possible in a printed catalog - always available, simple to browse, and information is easy to share.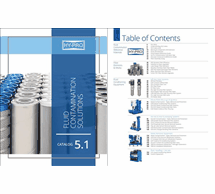 The Hy-Pro Filtration online e-catalog
Easy to use on a desktop computer, smartphone, or tablet

Convenient and easily accessible

Always up to date with the most current information and newest products

Fast and smart product searches

View online, print, or share

easily

Built-in Multimedia features directly from the catalog
Advanced Media Technology - Innovative media development and DFE-rated filter elements are the core of Hy-Pro's products, delivering lower operating ISO Codes for reliable plant operation. Optimized vacuum dehydration, coalesce and nitrogen membrane water removal technologies eliminate critical system water-related failures. (ICB) treatment of specified lube and hydraulic oils addresses fluid contamination on a molecular level to prevent servo valve failures and extend fluid life. Dedicated smart off-line filtration systems condition extremely high viscosity oils that were previously considered not filterable. And that's just scratching the surface of what Hy-Pro Filtration can do.
The Highest Quality

- Engineered, manufactured, and tested in our state-of-the-art facilities across the US, our contamination solutions are built to be rugged, dependable, and easy to use. From the highest quality materials and components, we deliver the best filtration equipment anywhere in the world. The same quality goes into Hy-Pro Filtration filter elements, eliminating any contamination challenge imaginable to provide our customers with the incredible results and peace of mind they deserve.
Unmatched
Expertise

- Work with Hy-Pro Filtration and you're working shoulder-to-shoulder with the industry experts to implement contamination control and prevention in all things industrial fluid. But it doesn't stop there. From customized strategies and long-term solutions to on-site service, support, and training, our expert Field Technical Reps are involved from before implementation begins to long after the life of the filter element to ensure our customers are provided the best solutions for their specific contamination problems.
Flexible Design
& Manufacturing

-
Whether you're selecting the perfect options from our standard product lines or need a completely custom, one-of-a-kind solution, we listen to your needs and collaborate with you to deliver a
specific contamination solution to fit your exact application.
Rapid Response

-
The flexibility in our manufacturing processes along with our extensive inventory of ready-to-ship filter elements allow us to
respond to any situation with incredible speed. For standard delivery, you'll receive your elements in days, not weeks. And in some cases in the event of any emergency or upset situation,
we're even able to deliver your exact filter element in hours to maximize your uptime and keep your plant running efficiently.
Eliminate Waste & Protect the Environment

-
Through contamination control and molecular treatment, Hy-Pro Filtration extends the useful life of critical hydraulic and lube oils to improve
reliability and bottom-line profitability. Preventing premature
fluid replacement reduces environmental impact, which is a responsibility that falls on everyone. With our produ

cts and efforts in fluid management, we continue to bring conservation of natural
resources and reduction of industrial waste to the forefront.
---
Hy-Pro Filtration Quality
At Hy-Pro Filtration, our mission is to make our customers as efficient as possible. From improving the reliability of hydraulic and lube oil assets through our filter elements and filtration equipment to stopping
equipment failures and downtime to reducing the environmental impact of the use and disposal of
industrial fluids, it is our goal to eliminate industrial fluid contamination and all difficulties related to it.
Hy-Pro Filtration strives to provide the highest quality filtration products and solutions, with a strong
commitment to customer service, competitive pricing, and customer product support. The company continuously develops product and process improvements along with the introduction of new products.