Hy-Pro's Factoryside Chat is now available on Apple Podcasts, Spotify, Podbean, and YouTube.
In this episode, Hy-Pro's General Manager, Aaron Hoeg, and Strategic Accounts Manager, Scott Howard, will discuss Hy-Pro's driving philosophy, "Partners for Life," regarding our customer relationships. Aaron has been with the company since the early 90s and Scott for 20 years. Hy-Pro was started as a family-owned business in the 80s and became a division of Donaldson Filtration in 2017. From Hy-Pro's inception through today, it's been essential that our customers experience outstanding customer service in every interaction with the Company. We feel our customers are partners for life and know the importance of forging lasting, mutually beneficial relationships. With this philosophy in mind and the fact that we manufacture the highest quality stationary hydraulic filtration equipment and high-efficiency filter elements; we help our customers meet their goals, such as lowering maintenance costs, reducing downtime, reducing the need to replace costly equipment, reducing spending on oil, and reaching their sustainability goals.
Subscribe to our podcast to ensure you get the latest episodes when available.
Hy-Pro's podcast series is led by our team of experts with more than 100 years of combined experience dealing with some of our industry's most challenging problems. Whether it is water, particulate, or oxidation by-products like varnish, Hy-Pro has the technical knowledge and products to prevent, protect, and clean up many of our industry's toughest lubricant challenges. In addition, we have many case studies demonstrating that our know-how, equipment, and people have increased uptime and significantly reduced costs.
Listen to episode 8 on the PodBean website by clicking on the logo below.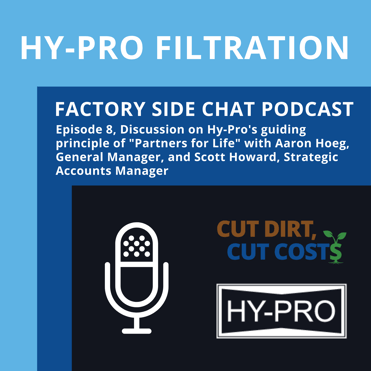 To listen on your phone, download Apple Podcast, Spotify, or PodBean from Apple App Store or Google Play Store.