Hy-Pro's Factoryside Chat is now available on Apple Podcasts, Spotify, Podbean, and YouTube.
The latest episode of our podcast Factory Side Chat includes Hy-Pro's subject matter experts, Scott Howard, Strategic Accounts Program Manager, and Curt Martin, Hy-Pro's Laboratory Manager, discussing filter element Sizing and the Selection and how the process is not an exact science and there are many variables to take into consideration and how every application can be diverse depending on the information collected from the customer. In addition, they delve into the countless details about the selection process and the importance of understanding the ISO codes required due to the sensitivity of the equipment you are trying to protect.
Subscribe to our podcast to ensure you get the latest episodes when available.
Please give us your feedback on our podcasts
Hy-Pro's new podcast series is led by our team of experts with more than 100 years of combined experience dealing with some of our industry's most challenging problems. Whether it is water, particulate, or oxidation by-products like varnish, Hy-Pro has the technical knowledge and products to prevent, protect, and clean up many of our industry's toughest lubricant challenges. In addition, we have many case studies demonstrating that our know-how, equipment, and people have increased uptime and significantly reduced costs.
Listen to this episode on the PodBean website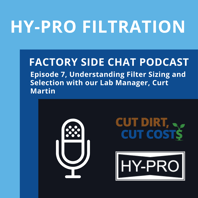 To listen on your phone download Apple Podcast, Spotify, or PodBean from Apple App Store or Google Play Store