Managing Water in Rolling Mill Lubricating Oil
In our last post, Improving Rolling Mill Oil with Vacuum Dehydration, we discussed how the demulsibility (ability of the oil to separate from water) of oil is an important characteristic that greatly influences the effectiveness of the lubricant and how a loss of demulsibility can result in poorly lubricated bearings, unplanned downtime and premature fluid replacement.
Dirty, Emulsified Oil = Stressed Bearings
Steel rolling mill lube oil systems commonly have high water contamination, which requires daily decanting of free water. However, when demulsibility is compromised, high levels of emulsified water in the oil can cause poor lubrication, reduced viscosity, roll stand leakage, higher bearing temperatures and increased rates of oxidation. Although rolling mills commonly employ centrifuges to remove water, they are a high-maintenance item and are commonly not maintained because of time demands on plant maintenance staff. When the free and emulsified water is not removed, the bearings suffer.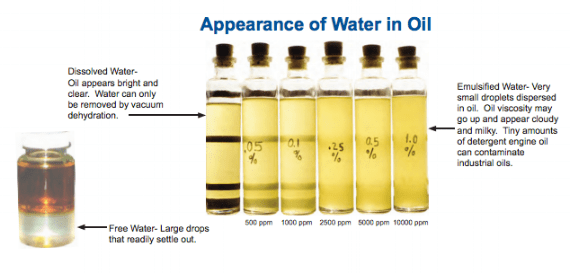 Rolling mill lube is typically dirty with only pleated wire mesh filters or strainer baskets in place to address particles. It is common for ISO codes in rolling mill lube oil to be 22/20/18 and higher. High levels of particulate contamination can affect the demulsibility of the oil and lead to higher levels of emulsified water in the oil in addition to the abrasive wear issues caused by particles. Both the water and particulate in lube oil compromise the effectiveness of the lubricant, cause bearing and component damage and reduce useful oil life.
Save Your Bearings, Save Your Oil
Instead of accepting dirty and emulsified oil as a part of steel mill life, many of Hy-Pro's steel customers have installed the VUD vacuum dehydrator to remove free, emulsified and dissolved water eliminating the need for decanting. This change reduces roll stand leakage, slashes oil consumption and eliminates contamination bearing failures. The VUD is also fitted with a high-efficiency DFE rated filter element that removes particles to world-class ISO cleanliness code levels.
In our next post, we'll discuss specifics about real-world results with vacuum dehydrators.
---