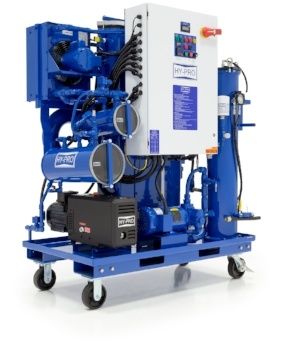 At the end of Part 2, we discussed the winning nature of vacuum dehydration. If you missed Part 1 in the series, you can find it here.
Did you know that hydrogen is the friendliest molecule - meaning that it is most likely seeking partners to attach to? Similarly, the suspended particles in oil actively look for particles to join forces, so they pair with the water.
This particulate contamination is the catalyst guilty of continuing the degradation of the oil and the increase of emulsified water. The more water there is, the more oxidation that occurrs. This also increases various acids that form as the molecules break down. These acids attack seals, hoses, pumps and metal.
Controlling Water and Contamination
When there is a high percentage of water in the oil, the biggest concern is controlling the free and emulsified water - as well as the particulate contamination - because these do the most damage to bearings. But we also have to keep in mind that by minimizing the ingress of the free water through leaky seals and chocks, you reduce regular decanting of free water and lube oil losses that occur as oil is carried down the drain while being eliminated.
Water in rolling mill oil is inevitable; however, if you manage it well, you can extend the life of bearings with proper lubrication and extend oil life. By lowering levels of water and particulate in the oil (both quantifiable goals), you will increase reliability and ultimately improve bottom-line profitability.
Proper care of the oil can help an operation justify the use of premium products and move beyond the high levels of water and particulate as the norm.
Still have questions? Contact us for more information on how to improve oil life.
---
Did you like this series?