Hy-Pro's Factoryside Chat is now available on Apple Podcasts, Spotify, and Podbean.
All episodes are now on YouTube and new episodes can be found on Apple Podcasts, Spotify, PodBean, or you can stream it directly from your computer.
Hy-Pro's new podcast series will explore best practices in the Fluid Power Industry and control all lubrication contamination forms. The podcasts are led by our team of experts with more than 100 years of combined experience dealing with some of our industry's most challenging problems. Whether it is water, particulate, or oxidation by-products like varnish, Hy-Pro has the technical knowledge and products to prevent, protect, and clean up many of our industry's toughest lubricant challenges. We have many case studies demonstrating that our know-how, equipment, and people have increased uptime and significantly reduced costs.
Listen to Episode 6, ISO codes, particle testing choices, and the new test ISO 23369 compared to Hy-pro Filtration's DFE, Dynamic Filter Efficiency test
In Episode 6, Hy-Pro's subject matter experts Scott Howard, Strategic Accounts Program Manager, and Curt Martin, Hy-Pro's Lab Manager, discuss all things particle size and testing.
How to measure the particle size concentration in oil

Patch tests vs. laser tests, visual versus those particles not seen by the naked eye

Importance of accurate bottle capture of samples

ISO 4406 standard and understanding its complexities, i.e. ISO codes are a limit and not a target

Testing for efficiency, comparing the new ISO 23369 cyclic flow test to Hy-Pro's DFE, Dynamic Efficiency test

Understanding cold start retention and reducing the "clouds of dust"

Understanding water and MPC testing
Please subscribe to our podcast to ensure you get the latest episode when they are available.
Listen on the PodBean website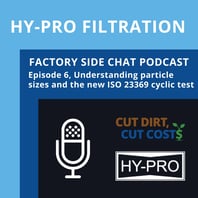 To listen on your phone download Apple Podcast, Spotify, or PodBean from Apple App Store or Google Play Store