Hy-Pro's Factoryside Chat is now available on Apple Podcasts, Spotify, Podbean, and YouTube.
In this episode, Hy-Pro's Account Manager, Mike Flick, and Strategic Accounts Manager, Scott Howard, will discuss how a kidney loop or offline filtration unit can reduce the total cost of ownership over time. Learn how and why a kidney loop or offline filtration unit can help keep your system up and running, whether you use a dedicated unit that operates on a 24/7 basis or a filter card. Learn how to lower the cost of ownership over time, lower your ISO codes, have cleaner oil, and use fewer filter elements, all while reducing downtime and maintenance time
Subscribe to our podcast to ensure you get the latest episodes when available.
Hy-Pro's podcast series is led by our team of experts with more than 100 years of combined experience dealing with some of our industry's most challenging problems. Whether it is water, particulate, or oxidation by-products like varnish, Hy-Pro has the technical knowledge and products to prevent, protect, and clean up many of our industry's toughest lubricant challenges. In addition, we have many case studies demonstrating that our know-how, equipment, and people have increased uptime and significantly reduced costs.
Listen to episode 9 on the PodBean website by clicking on the logo below.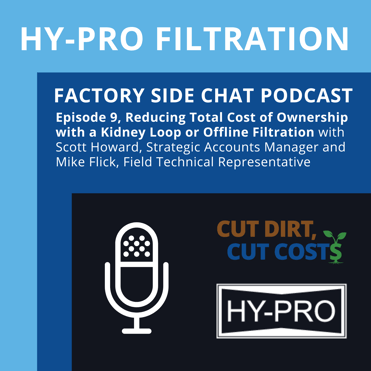 To listen on your phone, download Apple Podcast, Spotify, or PodBean from Apple App Store or Google Play Store.