ISO Cleanliness Codes Explained
The ISO Cleanliness Code (per ISO4406-1999) is used to quantify particulate contamination levels per milliliter of fluid at 3 sizes - 4µ, 6µ, and 14µ. It is expressed in 3 numbers (example 19/17/14) where each number represents a contaminant level code for the correlating particle size. The code includes all particles of the specified size and larger.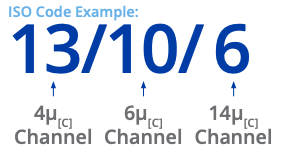 It is important to note that each time a code increases, the quantity range of particles is doubling. Inversely, as a code decreases by one the contaminant level is cut in half.